"Like NYC threw up on LA"
The above phrase is how one Brazilian described Sao Paulo to me. I'd say it's a fair characterization. You have insane traffic, valet parking and beautiful people similar to Los Angeles, but also towering skyscrapers, business/financial heft and arrogance reminiscent of New York.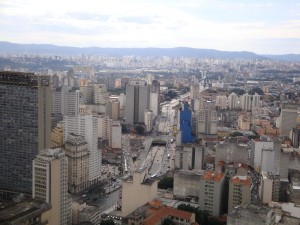 This photo gives some sense of how large and built-up Sao Paulo is. There are skyscrapers and high-rises almost all the way out to the horizon, and then mountains way in the distance. Oh, and from the center, the view looks like this in all directions. Sadly, this photo was not taken from a helicopter, but rather from the observation deck of the Banespa Building, which was inspired by the Empire State Building and remained the tallest building in Sao Paulo for many years.