Wednesday, July 15th, 2009
A great man once wrote,
"There is an art, it says, or rather a knack to flying.

The knack lies in learning how to throw yourself at the ground and miss.

Pick a nice day, it suggests, and try it.

The first part is easy."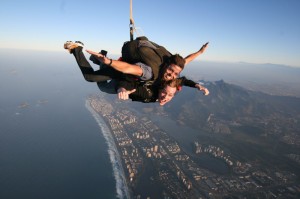 On Monday, I decided to take that advice to heart. I'd been looking for something big I could do to cap off my travels, and jumping out of an airplane seemed to qualify. What follows is a collection of photographs and observations from that experience.